The city of West Sacramento has a population of 50 thousand, and about 10% of them are Russian-speaking immigrants. According to Eugene Semeryuk, a Sergeant in the local police department, two new police officers just started serving the Russian community.
(Please turn on CC for English on video!)
Slavic department in West Sacramento police
Eugene Semeryuk, who immigrated from Russia in 1992, has been working in West Sacramento police for fifteen years. He was advancing his career alongside local officers, spending many years studying law and learning legal English. When he started in 1999, he was the only Russian-speaking officer in the department, so he had to take care of the many things happening in the Slavic community.
"I was an instructor, I trained policemen and interns, then I was an investigator, and now I am responsible for the road traffic," says Sergeant Semeryuk, the chief of the department.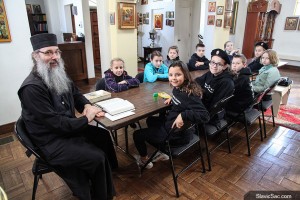 "We have a patrol of 5 to 7 officers for the entire West Sacramento; another 2 people work with schools and take care of juvenile justice. We also have investigators – although they do not wear uniforms, they are ready to assist us at any moment," Eugene demonstrates a breathalyzer that looks like a small suitcase and consists of a computer and an alcohol sensor.
"You swipe a driver's license here and all the information shows up at once. The breathalyzer tube goes in here, and it instantly displays the alcohol level," Eugene shows us a bright yellow gadget that looks like a two-way radio.
[rev_slider west-sac-police]
Russian diaspora in West Sacramento
West Sacramento has a large Russian diaspora, so the police department recently hired two more Russian-speaking officers: Sheriff's Academy graduates Andrey Kinda (24) and Alexei Venikon (26). At the start of their shift, the young officers get their Colts and a pack of live ammo from the armory room.
"We get the rifles in the morning and return them in the evening, or vice versa, depending on which shift we are working," officer Andrey Kinda describes his daily routine.
Read also: Bishop's son Pyotr Bondaruk sentenced to 6 years
A police station has one room where the law enforcement officers are not allowed to be armed. You would never guess what it is! We are talking about the room where the detainees are taken in. According to the protocol, all weapons must be left outside this room in a special safe box. This is done to avoid accidents, because the police have to deal with all kinds of "clients". Indeed, as soon as we left for our patrol, the colleagues of Russian officers brought in a woman in an unsound state of mind, who was later transported to a hospital.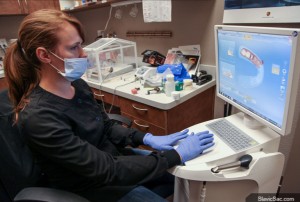 We take our seats in the well-equipped patrol car, and Eugene shows us the video recording system. He says that "the technology is constantly evolving, so we get more and more gadgets".
We pass the heavily guarded police department gates and turn onto Jefferson Boulevard where about a dozen Russian shops and businesses are located. In a minute we stop at a gas station close to the Bryte Church, one of the largest Baptist churches in Sacramento that has a congregation of about 2000 people.
The equipment and the video recording system
"This is the system that allows us to receive calls, send messages and so on," Eugene enters our destination point into the GPS navigator on the dashboard. "These four calls are currently pending, and these calls already have officers assigned".
Scroll down to next page