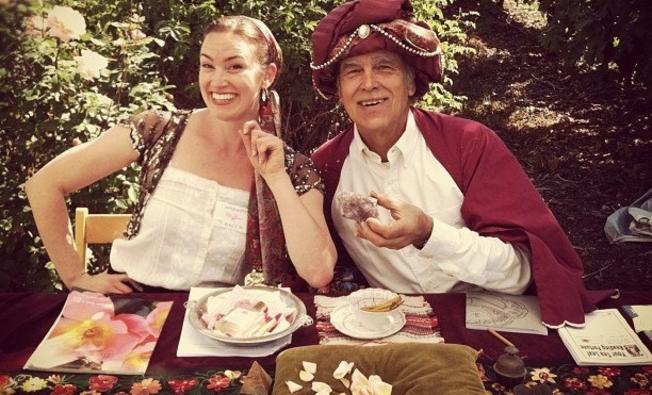 FALL'S FLOWERY ROLE: While springtime tends to hog the spotlight on all flower fronts — if, indeed, a season could be said to hog anything — autumn has its important ties to blossoming plants. It is, after all, prime time for planting roses, which means intrepid gardeners are already plotting their plots for a gorgeous bloom months from now. So, nope, spots like the Russian River Rose Company do not bid bud buffs adieu when the cooler months arrive. Rather they step up things up, on the festival front, by throwing a bash complete with tea leaf readings and singing and dancing. It's a bash that pays homage to the area's local Russian settler roots, too, so lovers of history and fragrant flowers are in for a double boon. It's the Russian Tea & Fragrance Festival, and it'll take to the company's rosy gardens on Saturday, Oct. 18 and Sunday, Oct. 19.
SORBET TO SINGING TO SUNSHINE: The region's strong Russian heritage and the release of "Rose Embrace," the company's most recent rose oil perfume (produced right there, at its rambling estate), are the reason for the celebration, which will include the Gradina Slavic Singers on Sunday and Joella Olsen and her violin on Saturday. Walks among the bramble-y beautiful rose plants, tea sipping from Dragonfly of Healdsburg, and a feeling of "mystique" permeate the weekend. (That's the company's word for the happening, and we'll share it here, given that our workaday worlds can rather lack in that quality.) Cost to get in? A five-dollar donation. Oh, and goodness goodness: Rose sorbet shall be made. Even just typing that makes one feel fancier and more elegant.
MORE RUSSIAN HERITAGE: A harvest festival, and wine tasting to-do, take over Fort Ross State Historic Park on Saturday, Oct. 18. Old-fashioned buggy rides? Admiring a Russian-style windmill in action? Yes and yes. This weekend is serious about connecting with those Russian roots of the valley.