According to the information acquired by Slavic Sacramento, Pentecostal bishop Adam Bondaruk is being sued in the federal court of California. The plaintiff, Liudmyla Iegorova of Sacramento, calls the 73-year-old bishop, "the leader of the Russian immigrants' criminal group in California''s capital" and demands compensation in the amount of $50 million.
Iegorova accuses Bondaruk, a pastor of Bethany Church and the leader of the Pentecostal congregation, of participating in the criminal activity of Russian diaspora in California.
"The US Government has granted asylum to a citizen with a serious criminal past, " claims the civil case filed on July 28th 2015. "The defendant has committed fraud and extortion of a senior person".
READ ALSO: Kuzmenko family members sentenced to lengthy prison terms
The case also claims that Adam Bondaruk "covers the criminal activity of his congregation".
"Using professional psychological tactics, the defendant caused moral damage to a blind senior citizen and her guardian, " says the official complaint that has been filed in Sacramento court.
According to Yegorova, Bondaruk ignored multiple complaints from the plaintiff, being "financially defendant from the members of his gang".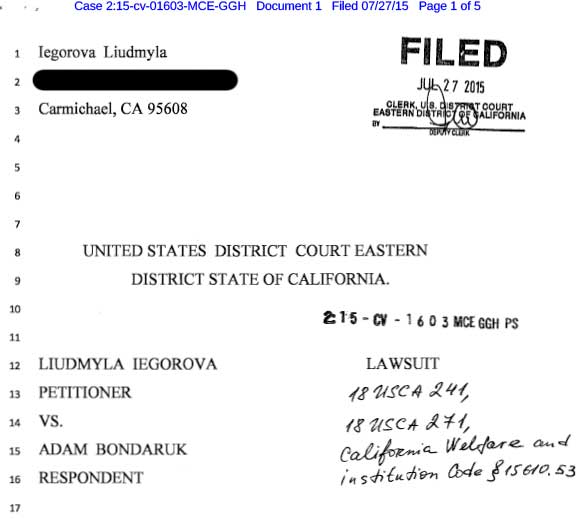 "
The respondent is covering the criminal activity of not just the members of Slavic Missionary Church, but other Pentecostal churches as well. "
Furthermore, according to the complaint, another pastor of Bethany Church Pavel Bondaruk (son of Adam Bondaruk) has insulted Lyudmila and Dmitry Yegorovs in the presence of witnesses.
The documents acquired by Slavic Sacramento also mention church staff members Valentina Bondaruk, Pavel Tupchiy and Grechko.
The plaintiff demands that the bishop of the Union of Christians of Evangelical Faith (West Coast) pays compensation in the amount of 50 million dollars.
Bethany Church and its pastor Adam Bondaruk declined to comment. Pyotr Bondaruk, the eldest son of the bishop, was recently sentenced to 6 years in prison for mortgage and banking fraud.