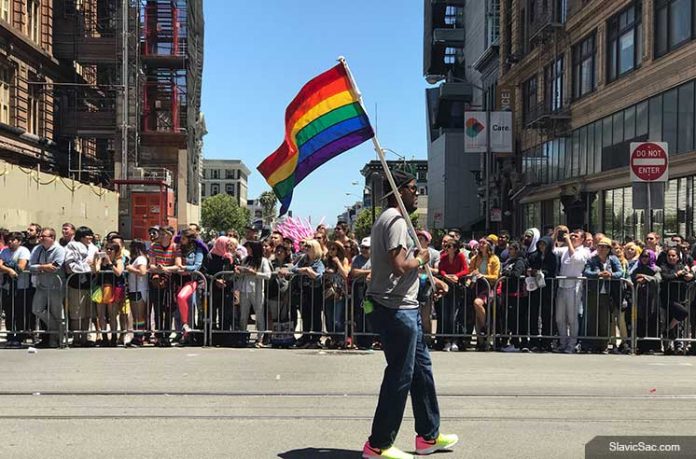 LGBTQ and the Slavic communities – two opposing realities?
Sacramento – On July 1, 2007, Andrey Vusik and several other individuals were at the park when a verbal confrontation ensued between them and a group of other males. It is alleged that Vusik and his group made derogatory comments about the sexual orientation of one of the men in the other group and, in return, the other group of males made insulting comments about Vusik and his group's heritage. The altercation escalated and a fist fight erupted. Vusik allegedly struck 26-year-old Satender Singh, who fell and hit his head. The victim was in a coma for a few days before dying.
On July 27, 2007, the Sacramento Superior Court issued a warrant for Vusik's arrest and he was charged with involuntary manslaughter. After it was discovered that Vusik had fled the country, a federal arrest warrant was issued by the United States District Court for the Eastern District of California, Sacramento, California, on August 16, 2007, and Vusik was charged with unlawful flight to avoid prosecution.

A 27-year-old David Bogdanov met Nikki Kuhnhausen, 17, in downtown Vancouver, Washington, in June 2019, and that he strangled her with a phone charger cable after engaging in sexual contact in the back seat of his car and discovering she was transgender.
After Kuhnhausen's death, Bogdanov dumped her body down the side of Larch Mountain, booked a one-way flight to Ukraine and called a friend to "get rid" of his car, according to trial testimony. But he returned later and was arrested.
Over the years, Sacramento Russian-language church members have picketed gay pride events numerous times, jammed into legislative committee meetings when gay issues were on the agenda and demonstrated at school board meetings.
In many local groups on social media, school sexual education is always a hot topic for many Slavic Russian-language mamas, who sincerely believe that their kids are taught to be gays and other "perversions" on such lessons, but not to respect the rights of people with different sexual identity, stop bulling, or simply educate children how body changes as long as it grows, and that changes are normal, shouldn't be scared of, etc. It's important to mention this as many Slavic religious parents don't feel comfortable to talk openly about it with their children, use the word "sex", name genitals, which, in some cases, causes early pregnancies, STD and many other related problems.
In 2019 Slavic protesters in Sacramento, packed school board meetings to protest what they saw as pro-gay curricula (SB 673 was on the floor of the Assembly then). They showed up at the Capitol to protest a bill requiring public schools to recognize the contributions of gays to society.
As Тhe Sacramento Bee reported, gay leaders and elected officials said there was nothing wrong with the Slavs' protesting; it was their methods that were objectionable. Gay counter-protesters who arrived at the Capitol were surrounded by Slavics yelling at them about sodomy.
This ungrounded fear forces many Slavic families, mostly religious ones, to choose homeschooling over attending schools in person.
According to the University of Oregon geographer Susan W. Hardwick, "Sacramento is the No. 1 gathering place for non-Jewish, non-Russian Orthodox, fundamentalist Russian and Ukrainian immigrants". For many of them homosexuality is a kind of a disgrace and a lifestyle for immoral people and prisoners, a sinful behavior, which should be strictly condemned and never exercised. Some of these immigrants even regret coming to the US because they have a feeling they are losing their kids.
It's important to understand that post-soviet countries in general are quite conservative and traditional in terms of relationship between men and women, family; there is still rather clear division into male vs. female things, behavior, obligations, mentality, and so on and so forth. Many people were raised this way, lived in an environment like that and, as a result, brought such a mindset here when migrating to the U.S.
The narrative about "traditional values" has been strongly pushed by the President of Russia Vladimir Putin for decades, and now it's blooming – many strict "anti-gay propaganda" laws were adopted in Russia in 2022, which in fact, made LGBTQR-community illegal there. Putin constantly puts the West on a contrary to those "traditional values". The State Department calls this narrative a disinformation Russia's Top Five Persistent Disinformation Narratives – United States Department of State
Nevertheless, this idea resonates in the minds of many believers – "Western civilization is collapsing and has strayed from "traditional values" because it works to ensure the safety and equality of LGBTQI+ people and promotes concepts such as female equality and multiculturalism". For example, President Putin has claimed the West has practically canceled the concepts of "mother" and "father," and instead has replaced them with "parent 1 and 2," while Foreign Minister of Russia Lavrov wrote that Western students "learn at school that Jesus Christ was bisexual."
The Danish Institute for Human Rights published Study on Homophobia, Transphobia and Discrimination on Grounds of Sexual Orientation and Gender Identity Sociological Report: Ukraine. One of the main conclusions of this study is "The general attitudes towards LGBT persons in Ukraine are reported to be strongly negative. This negativity is often explained by the fact that being a homosexual is against Ukrainian moral standards and principles and therefore completely unacceptable. The church is also playing an important role, as the Ukrainian society is very religious and the views and opinions of the different churches are influential for a large segment of the population."
Same or almost the same situations are in other post-soviet countries: Armenia, Belarus, Georgia, Moldova, Kazakhstan, etc.
Off-topic, "traditional values" one of the strongest reasons why Slavic religious refugees are strongest supporters of Donald Trump Why are religious refugees from the USSR voting for Trump?
Immigrants living in the U.S. still have close connections with the countries of their origin, many of them have families and friends there, and travel there frequently. That's why their conviction in the trueness of their views is not weakening, but strengthening.
However, LQBTQR-members exist in Russia, Ukraine, Belarus, and other countries of the former USSR; they work, build families but they have to live under the disguise of a "normal" people. In Russia, in rural areas "normal" people exercise "corrective raping" (hideous practice, in fact) – when in a family where a girl came out as a gay, another family member, male, does it to her to change her mind. This practice is illegal, but it exists.
Many LGBTQR people flee to Europe or the US in search of asylum, a place to be and live the way they are. They are truly happy to be in California, especially in the San Francisco Bay Area, which does a lot to protect the rights of this minority group. Mostly, they don't go public because they still fear harassment, and stalking.
However, the society is developing, it is moving forward. California, in comparison to other states, leads in protection LGBTQR community's rights. The Golden State became the first state in the U.S. to legalize domestic partnerships between same-sex couples in 1999. Same-sex adoption has also been legal statewide since 2003, permitting stepchild adoption and joint adoption between same-sex couples.
In 2014, California became the first state in the U.S. to officially ban the use of gay panic and transgender panic defenses in murder trials. Public schools are also required to teach about the history of the LGBT community and transgender students are allowed to choose the appropriate restroom or sports team that matches their gender identity. As of September 2022, the California Legislature has passed 185 bills and resolutions sponsored by Equality California to advance LGBTQ+ civil rights and social justice.
Murder of Nikki Kuhnhausen in Washington state caused significant changes – after this crime, in March 2020, Gov. Jay Inslee signed into law House Bill 1687 — dubbed the Nikki Kuhnhausen Act — that prevents a criminal defense based on the discovery of a victim's actual or perceived gender identity or sexual orientation.
Elena Kuznetsova, SlavicSac.com