Please sign up for a paid subscription to the Slavic Sacramento YouTube channel to access exclusive content.
The Bethany Slavic Missionary Church addresses the news of the Slavic Sacramento about the suicide of Bishop Adam Bondaruk. The press release was published on the website of the religious organization on January 1, 2023. 
"This public letter documents, on behalf of Slavic Missionary Church, Inc. "Bethany", that during the funeral of its former Senior Pastor Adam Bondaruk, Bethany Leadership was not aware of his medical cause of death. The leadership was simply informed that Adam Bondaruk died on August 14, 2022 at his home," said in the official document of the church, signed by pastor Ivan Gavrilyuk.
According to Gavrilyuk, who represents a religious organization in Sacramento, "at the time of his death Adam Bondaruk was retired from Bethany's ministry and no longer served as its Senior Pastor".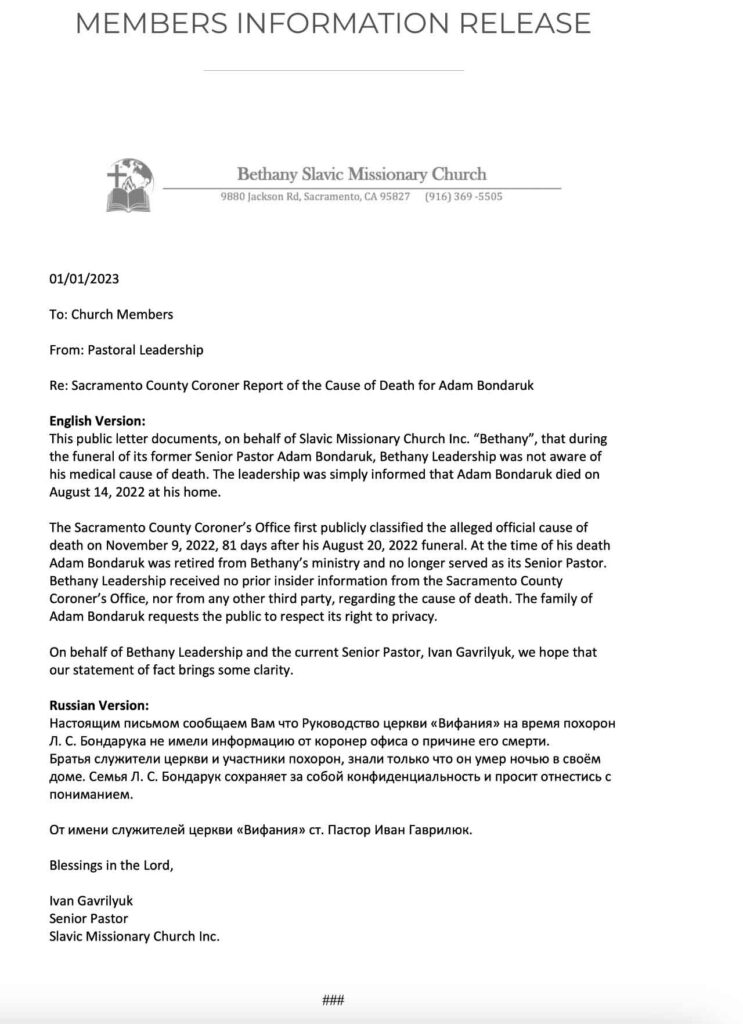 "The Sacramento County Coroner's Office first publicly classified the alleged official cause of death on November 9, 2022, 81 days after his August 20, 2022 funeral… Bethany Leadership received no prior insider information from the Sacramento County Coroner's Office, nor from any other third party, regarding the cause of death. The family of Adam Bondaruk requests the public to respect its right to privacy."
On December 21, Slavic Sacramento published documents testifying to the suicide of the former senior pastor and bishop of the Bethany church Adam Bondaruk. During his funeral in August, this was not reported. Adam Bondaruk was buried at the Bellview Cemetery, owned by the Bethany church.