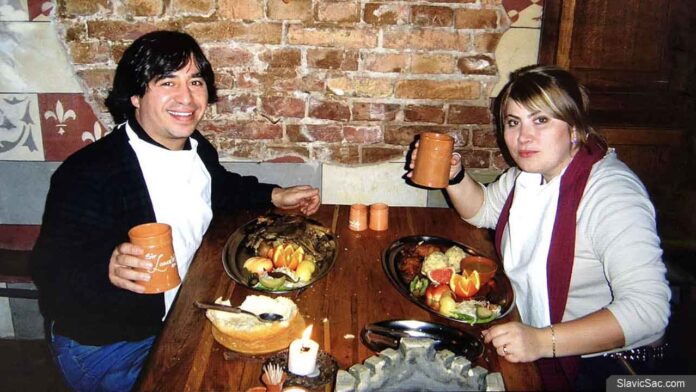 Vanda and Vincent Leon have been married for over 20 years. She is a Ukrainian with Polish, Jewish and Russian roots from Kyiv, he is a Hispanic American.
Vanda Mikhaylovskaya and Vincent Leon have been married for over 20 years. She is a Ukrainian with Polish, Jewish and Russian roots from Kyiv, he is a Hispanic American from Silicon Valley… with Ukrainian roots.
Vanda, who was born and raised in Kyiv, was returning by train to Kyiv from a trip to Croatia in 2000 when she met her future husband.
Vincent had flown from San Francisco to Europe and traveled on the same train to Uzhgorod, Ukraine, to meet his Ukrainian relatives, whom he had never seen and who spoke no English.
Vincent's great-grandfather was a native of Ukraine, and had come to the U.S. with two of his brothers more than 100 years ago. The brothers got married in this country, and one returned back to Ukraine. The relatives maintained a relationship until the 1950s. Then, the connection broke off until the collapse of the USSR in 1991, when they were able to find each other again.
On the train Vanda noticed a dark-haired man whose relative asked her for help with an English translation. For Vincent it was love at first sight. He decided that he would marry this beautiful Ukrainian girl. At the end of the train trip, they exchanged phone numbers.
The next meeting took place in the Netherlands in May 2001 after the two had messaged and called each other regularly. The actual marriage proposal followed at the end of 2001, when the couple celebrated the New Year in the Carpathians with Vanda's friends. In 2002, Vanda moved to the US to build a new life with Vincent, who won her heart with his absolute care and devotion.
Vanda's mom died almost 30 years ago. Her dad is her role model. "He made himself," she says, getting an education and starting his own successful business without acquaintances and connections which were a must in the USSR. Also, he always went in for sports, and at 87 he is in great shape.
Vanda says that her dad was very glad to know that his daughter was getting married and he happily accepted Vincent into the family.
"I grew up in an unusual family," Vincent says about himself. His parents had been born and raised in the US, although the dad's family had immigrated from Latin America and the mom's from Ukraine. Vincent's mother did not know Ukrainian, and his father spoke just a little Spanish. For a long time he did not know that he had relatives in Ukraine.
Vincent's dad, like Vanda's dad, also "made himself" – earning a PhD from UC Berkeley and working for NASA. He applied this "make yourself" principle to his son as well – Vincent got an education as an engineer and worked in Silicon Valley at AMD, then at Intel. However, his life-long passion is cooking. "I would have run my own restaurant, if I didn't work as an engineer," Vincent smiles.
"When I came to the U.S. I didn't have any kind of cultural shock since I had traveled a lot and could speak English, Vanda says. Vincent, on the other hand, found himself adopting the "classic" stereotypes about people from the former USSR – he was surprised that they did not smile, at least they didn't do it as much as Americans.
Vanda quoted the old saying "laughter for no reason is a sign of a fool". In the culture of the Slavs from the post-Soviet area, a smile is intended only for close relatives and friends, but not for all passers-by on the street, shop assistants or waiters.
Both say that they were lucky – they had no fundamental differences in terms of religion (both are Christians), politics and principles about how to build the family. Their relationship has always been built "on an equal footing" as both call it, without pressure and signs of patriarchy. There was only one difference – the language – which Vanda improved a lot upon arrival in the US.
The cuisine also was not a stumbling block, but on the contrary, became a unifying factor. First, because Vincent is a very good cook. He loves the famous Ukrainian borscht (surprisingly, his Ukrainian wife doesn't like it). Secondly, both love to experiment with new cuisines and flavors and love Asian food, while at the same time they have similar tastes in things they don't like, e.g. fast food.
Thirdly, both love gourmet cuisine and good wines, so when they travel (their shared passion), they definitely go to a good restaurant to try something new.
Having lived together for over 20 years, Vincent and Vanda agree that while people are more cosmopolitan now, although they believe that religion can have a very strong impact on relationships.
"Pay no attention to those who spout racial prejudice and hatred. You can't prove anything to such people," the couple believes. "Just live in peace to spite the haters."
Vanda and Vincent are proud parents of their 17-year son, and celebrate the Census data that the multicultural population in the US has grown by 276%. "Children from interracial marriages are the most beautiful,' Vanda laughs. "The more interracial families we have, the less signs of racism we get."
This article is part of the Love Across Colorlines series, a collaboration of 20+ ethnic media outlets looking at interracial marriage in California at a time of rising hate. Visit Love Across Colorlines to see more in the series.
Elena Kuznetsova | Slavic Sacramento
Ethnic Media Service, which Slavic Sacramento is proud part of, is publishing a series of stories looking at interracial marriage in California. Reporters from 20+ ethnic media outlets turned the lens on multiracial couples in their communities. The stories offer intimate portraits of how people from California—as well as from all over the world—find and marry one another, creating a cosmopolitan culture in the state that has never existed before. While racial hate continues to rise, the epic story in California is one of love across all color lines. Visit Love Across Color Lines to see more in the series.
Here is the glimpse into the history of interracial marriage in California which helps to understand that what is considered now as a matter of course went through many barriers and obstacles.