Welcome to the Slavic Sacramento Online Marketing Agency in Northern California, where You will get useful knowledge about people that speak the Russian language. You will also get information about local American businesses seeking to create relationships.
In Sacramento, people that speak the Russian language, call themselves Slavic. This is only because everyone was uprooted from Slavic countries. We brought our families, businesses, belief, and culture to the United States. Our goal is to raise our families and grow our future in America.
We open new businesses and companies while networking with other similar business people. We welcome a fresh start, new connections, and powerful business partnerships.
When you market or promote your company or event with Slavic Sacramento, your reach will not only include those that speak the Russian language but also everyone who speaks Ukrainian, Armenian, Moldavian, Belorussian, along with other dialects of post Soviet Union countries.
Slavic Sacramento Online Marketing Agency will be your complete connection between your company and a Slavic client
In a typical month, SlavicSac.com has over 30,000 plus unique visitors per month. Plus, we have over 35K followers in social media groups. Our traffic continues to grow.
A very high percentage of our visitors are business professionals who live in Sacramento and the surrounding areas. Not everyone is from Sacramento area. There are Slavic professionals from Bay Area, Los Angeles, Washington, Oregon, Texas, Florida, and New York.
Currently, there are approximately 150,000 Russian and Ukrainian people in the Greater Sacramento area and same number in San Francisco Bay Area. The sky is the limit in getting connected and working with this growing community. We want new business partners. Partner with us and grow today.
This is the site for the Slavic community to seek new opportunities.
E-mail us to place your ad.
This is the price list for advertisement on our site: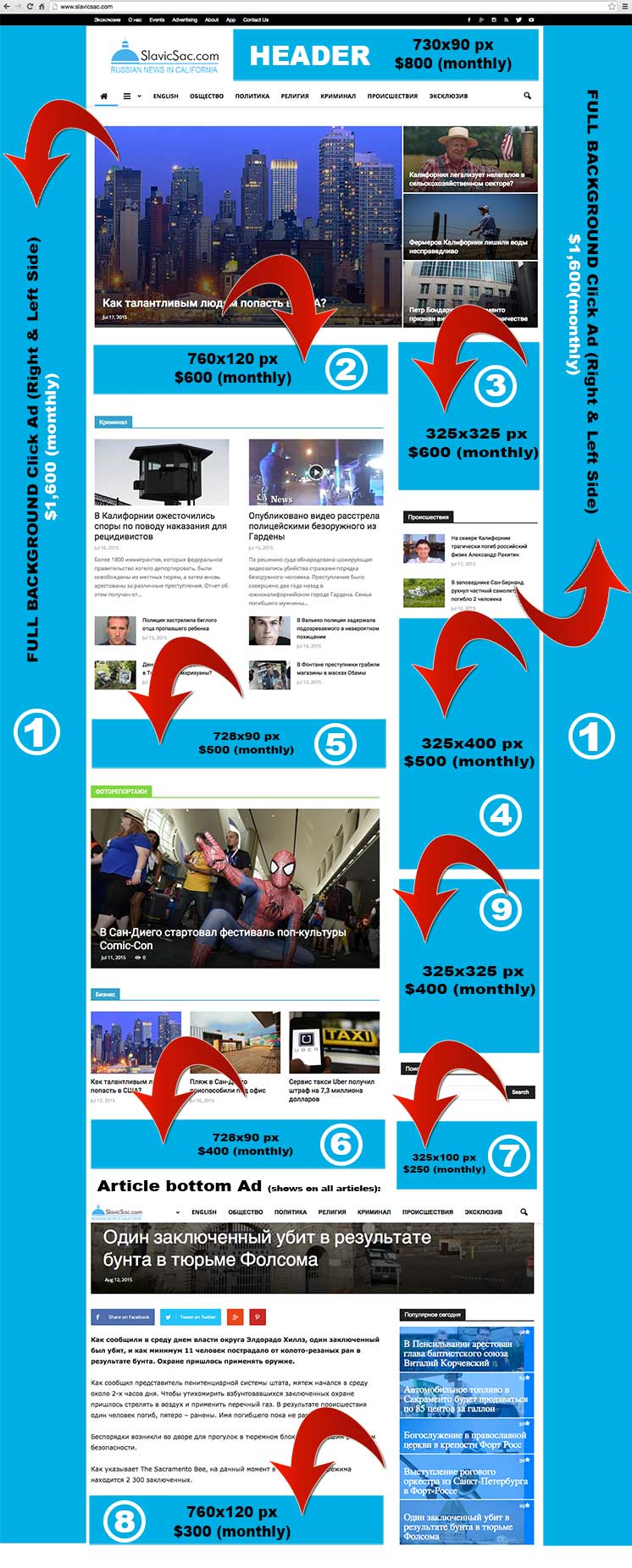 Package 1: Get your ads to show on all pages (incl. home) + 1 Two Min. FREE Video, 4 articles (Weekly Facebook, Twitter & YouTube Rotation) – $1,600 per Month

Package 2: Get your (760×120 px) ad to show on Home page + 4 Times a Month in Facebook, Twitter and YouTube – $600 Monthly
Package 3: Get your Medium square (325×325 px) ad to show on Home page + All other pages (That package also goes with Social Networks Promotion twice a Month!) – $600 Monthly
Package 4: Medium square (325×600 px) ad on Home page + All other pages (Plus Social Networks Promotion twice a Month!) + One FREE Article per Month! – $500 Monthly
Package 5: Leaderbord (728×90 px) ad on Home page (Plus Social Networks Promotion 4 Times a Months!) + One FREE Article per Month! – $400 Monthly
Package 6: Leaderbord (728×90 px) ad on Home page (Plus Social Networks Promotion 2 Times a Month!) – $400 Monthly
Package 7: Small Button (325×100 px) ad on Home page only. – $250 Monthly
Package 8: Article bottom Ad + Facebook and Twitter Advertising (Twice a Month)! – $300 Monthly
HEADER: (730×90 px) ad to show on Home page + 3 Times a Month in Facebook, Twitter and YouTube – $800 Monthly
E-mail us to place your ad or just fill out this form: