Truck driver dentist in West Sacramento: A trivial tooth infection turned tragic this week for Vadim Kondratyuk. Vadim Kondratyuk, 26, a truck driver from Sacramento, died from a serious infection that quickly spread through his body during a routine drive from New York to California.
The trucker felt extreme pain while on the road and visited a dentist in Oklahoma where he was diagnosed with a tooth infection and prescribed antibiotics. Kondratyuk felt better for a while but soon had to seek medical help again, this time in the emergency room of a Utah hospital. By that time he had fluid buildup in his lungs, and died as a result of it.
"They gave him medication, they tried to help him the best they could," Vadim's widow Nataliya Kondratyuk said. "We prayed for him that day in hope that he would make it through. But the Lord had a different plan for him. He was not getting better as we hoped. He was getting worse and worse."
To prevent cavities you should maintain good oral hygiene and visit your dentist regularly otherwise the bacteria may infect the bone tissue and reach the bloodstream which will spread the infection throughout the entire body within hours.
"People don't realize that dental disease can cause serious consequences," Dr. Alexander Kaplan, the founder of Eureka Dental Group said. "For instance if decay is not treated an infection in the upper molar can spread to the sinus and enter the brain and cause death."
Dental services in the US are not cheap, but they are still affordable. Dr. Kaplan's dental offices in Roseville and West Sacramento treat patients with such problems. Furthermore, truck drivers get a special discount of up to 20 percent off the normal price. There is free truck parking, all you need to do is fill out a form on the clinic's website. Eureka Dental uses computer modeling and a tooth restoration system which makes it possible to repair most any tooth defect with a ceramic insert or a crown.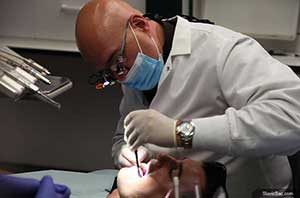 "People need to understand, that their mouth is not separate from the whole body. For example, untreated infection in a lower molar can spread down and block the airways and cause suffocation or death," Dr. Kaplan said. "Untreated decay or gum infection can spread to vital organs. On the other hand, there are a lot of scientific studies linking untreated decay and gum disease with cardiovascular disorders including myocardial ischemia, heart attack and stroke."
Within two weeks the amount of donations to the Kondratyuk family reached $280,000. The management of Eureka Dental Group has also donated money to the young family. Furthermore, Eureka Dental Group – truck driving dentist has pledged to give the family 10 percent of all the money spent in the clinic by any trucker (or anyone else willing to help) during the next month.